Welcome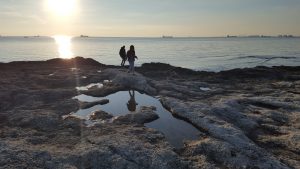 Around it, a blue sea where trawlers, boats, celebrities, sailing boats and even the most giant of all boats, tankers, can be enjoyed.
Between the pier and the fort de Bouc, the fisherman meets the sailor from the end of the world, a salvation of the hand, a gesture of hospitality.
From the sea one discovers first the shores, pebble beaches, sandy beaches, then the Renaissance port, on the shores of the city center and its new heart built on the site of the old shipyards.
Located east of the Rhone delta, facing to the Gulf of Fos, 45 km from Marseille, Port de Bouc has 9,5 km of coastline. The city has been able to use the energies of the sea in its development and its activities